Children and Caregivers
Blog
Why I Brought My Son to Bogotá: A Visit to Bogotá's Centro de Apoyo Nutricional, supported by the GCF
By Samer Saliba, Director of City Practice, Mayors Migration Council
An estimated 36 million children under the age of 18 live in a country other than their country of birth. Worldwide, more than four of ten forcibly displaced persons are younger than 18, with 33 million children living in forced displacement at the end of 2019 – either as internally displaced persons within their country or abroad as refugees or asylum seekers.
The Venezuelan displacement crisis is only exacerbating this trend. There are now over seven million Venezuelan migrants and refugees, many of them children without access to education, healthcare, or basic services. While Colombian cities such as Barranquilla, Medellín, and Cartagena welcome most Venezuelan migrants and refugees, none welcomes more than Bogotá. Colombia's capital city is now home to over 500,000 Venezuelans, most of them women and girls.
Under the leadership of Mayor Claudia López, Bogotá has done well to provide for these families, such as opening a dedicated educational center for migrant children and adolescents in the Centro Abrazar in 2019. Yet despite serving thousands of children through these services, the city still lacked the resources to address a critical gap: nutritional care for the youngest migrants and their mothers. Too many Venezuelan children were showing up to Bogotá's services malnourished and too few international actors were doing something about it.
Their solution was to submit a proposal to the MMC's Global Cities Fund for Migrants and Refugees to open a nutritional support center for migrant and refugee children in 2021. And in 2022, with the support of the Conrad N. Hilton Foundation, Bogotá launched their first-ever Centro de Apoyo Nutricional dedicated to serving refugee and migrant children ages zero to five, as well as pregnant and nursing women. A joint initiative of Bogotá's Secretaries of Health and Social Inclusion, and implemented with the support of CAFAM, the center offers a diverse suite of services, including individualized nutritional and pediatric care, referrals to rights-based social inclusion and integration services, psychosocial support, and educational workshops for caregivers.
I've personally had the privilege of working with Bogotá's project team since they broke ground in late 2022 and was consistently impressed with the passion and dedication they brought to the project and the families they served. But I did not begin to understand what these parents were going through until my partner and I welcomed our own child, Emre, in June 2023. When my son was born, I realized I was privileged not just by working with cities like Bogotá, but seeing our son safe, home, and surrounded by family when too many migrant and refugee caregivers couldn't say the same.
In discussion with the project team (and, of course, my partner), we decided Emre's first international trip should be to visit Bogotá's Centro de Apoyo Nutricional. We did this to both see first-hand the care that the city provided to families every day and to show them the trust we have in cities not only professionally, but personally.
Upon arrival, the staff treated my partner and son like any newcomer to the space: registering him with whatever ID he had (or didn't have), screening him for signs of malnutrition, offering my partner a space to breastfeed, going for a check-up with a pediatrician on site, and referring his parents to whatever follow-on services we may need.
Thankfully, Emre was relatively healthy and well fed. The center has screened over 1,000 cases, but what stood out to me is the 22 cases of critically malnourished children that fully recovered thanks to the center. This includes a family whose months-old daughter had to be rushed to the hospital moments after arriving to the center. She is now healthy and in the care of parents who no longer worry about where they will get their next meal. This might not have been the case last year.
Located in Bogotá's Santa Fe neighborhood, the center has treated more than 300 children and caregivers experiencing poor nutritional conditions have accessed the center's services, including the 22 cases of critical malnutrition. The city has committed additional resources to keep the center open for 2024, but beyond that will require additional support from international donors to ensure that no migrant or refugee child goes hungry in Bogotá.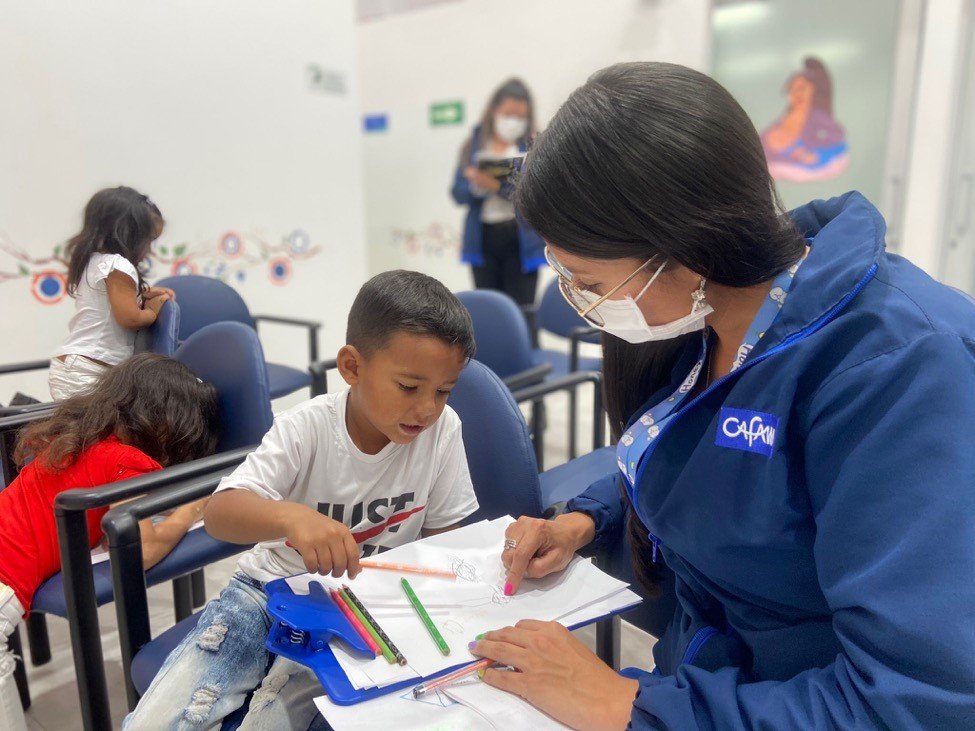 My partner and I are kids of immigrants. My own parents left a war-torn country to give their children a better future. Thanks to the difficult choices of our parents, we don't have to make the same ones for our son. But we do feel an obligation to show him that his home city isn't the only one where kids like him can thrive.
Bogotá is just the beginning. Later this year, six new Global Cities Fund grantees – Amman, Dunaivtsi, Guayaquil, Milan, Montevideo, and Ramallah – will start their own projects in support of migrant and refugee children. In delivering lifesaving projects of their own design and understanding of local context, these cities will join Bogotá in providing a welcome to the youngest migrants and refugees while showing how the rest of the world can do the same.